About 45 minutes by speed boat from Chalong pier to get the twin Racha islands. Racha Yai (big island) and Racha Noi (small island). You may find that the both islands is better for diving than do in the coast of Phuket.The east coast of Racha Yai give you the attractive moment, especially very good for the beginners, that's because of the water depths range between 3-30 meters.

At that level is sure to welcome for all of the divers and snorkelers. If you enjoy sunbath or stroll along the white sand beach, you may find yourself on the main beach on the island's northwest coast ( Ao tawan tok) which located in a U-shape bay.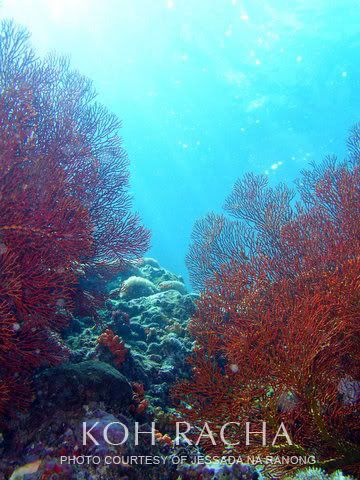 The other island is Racha Noi. A little from the south of Racha Yai. There is a tiny bay on its west coast that is favorite spot for fishing. It's great for the experienced divers, as the the depth is greater and the stronger current when compare to Racha Yai. There are some sites where larger marine creatures like manta rays inparticular,are regularly spotted.