Viewing the sunset - watching the great red orb of the fading sun being swallowed by a tranquil Andaman Sea - is one of the must do things for every Thai visitor to this island. It is de rigeur to do this on even on the shortest visit. Local tradition proscribes that every Thai visitor to Phuket must make the pilgrimage to Laem Phrom Thep, one of the country's most famous landmarks at the very southern tip of the island, before he can claim to have seen Phuket.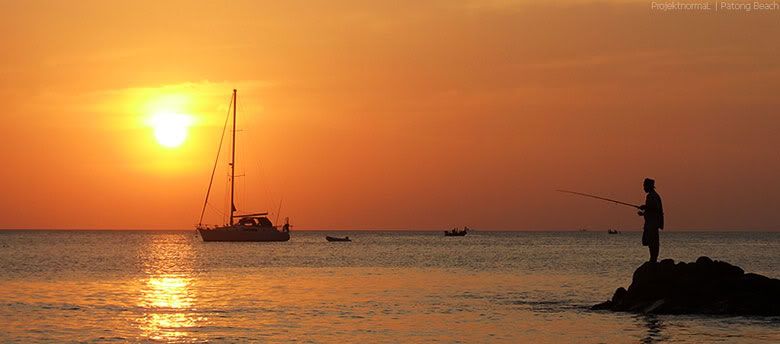 Any of the many high points along the west coast road will give a grandstand view. The high view-point at the back of Kata Noi beach is a particularly spectacular one – always with people, but not by the traffic jam load. The headlands north of Patong Beach alos offer numerous vantage spots, many with restaurants or stalls selling cold drinks to top off the occasion. Good vantage points are available all the way up to Mai Khao beach at the island's far northern tip, where beach-side stalls thrive on Thai clients at this time of day.

Finding a small beach bar or restaurant, settling with a cold beer or cocktail and waiting for the sun to touch the water is also an especially memorable way to absorb this god-given display. Simply strolling on the beach as the sky casts reds and pinks across the heavens is also eloquent and memorable.