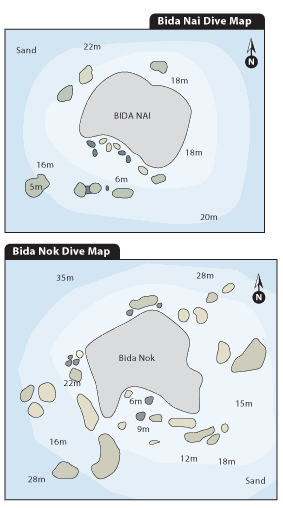 Koh Bida


+ Limestone Islands

+ Hard & Soft Corals, Seafans

+ Tropicals, Octopus, Leopard Sharks

+ Moderate Currents

+ Site Depth: 0 - 30 meters

+ Site Visability: 10 - 25 meters

+ All Levels of Diver, Good for Beginners

+ Two large outcrops directly South of Phi Phi Ley

The Phi Phi Islands are an incredibly scenic diving destination. The topography from the surface is absolutely stunning; monolithic limestone mountains rising vertically from the sea and soaring to heights of more than 500 meters.

Underwater you'll find an amazing environment of rugged caves, overhangs and swim-throughs in the soft rock. Other dives include sheer walls that plunge from the surface to over 25 meters. These walls contain a profusion of soft corals, large orange-colored fans, black corals, and long stringy sea whips.
The Phi-Phi Islands offer a remarkable variety of dive sites within the island group.
Two of the most popular sites are located around two islands of Bida Nai and Bida Nok at the Southern tip of Phi Phi Le where you'll find huge gardens of Staghorn and Star corals and incredible numbers of colorful reef fish.

source reference :
Provided by Tourism Authority of Thailand
source Photo :

divemaster2006

Jared Kelly

josephvino

(thank you for your comment I'm so sorry about the picture is wrong place, plz for give me.)