Anemone Reef Basics: anemone-covered pinnacle
Depth: 6 - 25m
Visibility: 5 - 20m
Currents: Moderate
Surface Conditions: Can be rough
Water Temperature: 27 - 30°C
Experience Level: Intermediate
Number of dive sites: 1
Diving Season: All year round
Distance: ~26 km east of Phuket (1¾ hours), 19 km west of Phi Phi (2 hours), 40 km southwest of Krabi (3 hours)
Access: Liveaboards and day tours from Phuket, Phi Phi Islands or Krabi


Hin Jom, meaning submerged rock, derives its English name from the profusion of lime green and sky blue magnificent anemone's that cover this pinnacle. Anemonefish and clownfish use the anemone's for protection and provide this Phuket dive site with all the colours you could wish for.

This unique dive-site is a huge lime-stone pinnacle that soars 30 meters up from the ocean floor to sit 4 meters beneath the surface where it abruptly ends and drops back to a sandy bottom.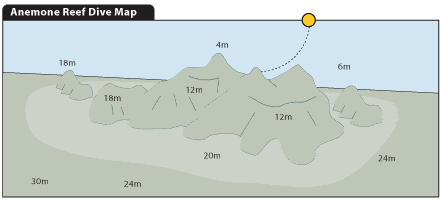 The barely submerged reef is a well-known shipping hazard (see King Cruiser Wreck) and is located less than a mile north of Shark Point. The Thai name for this site is Hin Jom which means underwater rock and although not as colorful as Shark Point, the site is famous for its vast fields of sea anemones that cling to every conceivable surface and swing and sway with the current.

The profusion of sea anemones and the nutrient-rich water are a magnet to a constant parade of reef fish seeking food and shelter. Enormous schools of tropicals, snappers, groupers and colorful clown fish, along with larger game-fish like tuna and barracuda as well as the occasional leopard shark can be seen here.

At the end of the dive pay close attention in and around the anemones. You can find tomato, skunk, pink and Clark's anemonefish, to name but a few. And yes, the now famous western clownfish is everywhere, so you will find Nemo! Anemonefish are not the anemone's only residents though.

Porcelain crabs can be seen on the outer edges of carpet anemones, shrimps hide in the middle of the anemones and damselfish such as the three spot dascyllus are ever present. The top of the rock at six metres is an ideal spot to finish off that roll of film; in fact many photographers choose to spend their whole dive here as the shallow depth provides great lighting conditions.

: Source Reference
Source Photo :
dachalan